About the Resident Lab Courses
NOTE: Due to unexpected issues, there was no cadaver lab course in 2021.
In place of the cadaver session, we hosted the Business of Total Joint Replacement: A Primer Course for Residents. This course also included breaks to complete the Resident Cement Lab Course, which was not affected by the cancelation of our cadaver course.
About the Resident Business Course
The Resident Business Course and Resident Cement Lab Course took place 7:00 a.m. to 2:00 p.m. on the Thursday, November 11, at the Hilton Anatole Hotel in Dallas, Texas. Of the 140 residents accepted into the AAHKS Resident Arthroplasty Course, 128 will also be selected to participate in these sessions. 
AAHKS sponsors the Resident Arthroplasty Course, which takes place just before the AAHKS Annual Meeting General Session. This sponsorship has extended to the newer resident courses mentioned above. Course attendees receive free tuition for both the Resident Arthroplasty Course and the AAHKS Annual Meeting. In addition, AAHKS will reimburse the lowest economy airfare up to $500 and provide lodging and meals.
This course provides residents with the opportunity to learn the latest information regarding total joint arthroplasty from nationally renowned experts.
CME is not offered for this course. 
Residents will be assigned to a lab on a first come, first served basis.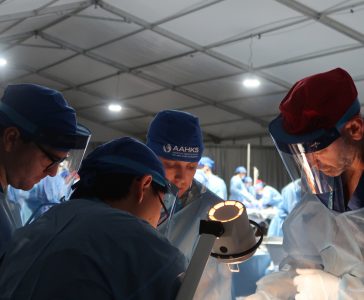 Benefits of the Lab Courses
Networking! Faculty for the lab are comprised of world-renowned arthroplasty surgeons and AAHKS leadership. Residents come from all over the country. Use this as an opportunity to make connections and share ideas!
Surgical Time! Who doesn't love to work on their surgical skills?
New Techniques! You will be exposed to some of the top minds in the field of arthroplasty. Be sure to pick their brains for new ideas!
Free Lunch! Last but not least…there will be a luncheon after the second session of lab concludes. The lunch will feature a debrief of the lab as well as a short presentation by the faculty. And…more networking!
The Business of Hip and Knee Arthroplasty: A Primer for Residents
Business Course Topics:
How to Choose the Right Practice: Lessons Learned

The Differences in Various Practice Models:
Current and Future Trends
Essential elements of Building and Growing
a Successful Practice
Building and Maintaining Efficiency in Your
Clinical and Surgical Practice
Working with Industry:  What You Must Know Before You Start!
In-Kind Sponsors
Thank you to our in-kind Course Sponsors: DePuy Synthes, DJO Global, Smith & Nephew, Stryker, and Zimmer Biomet.
Faculty
R. Michael Meneghini, MD, Course Chair
Nicolas A. Bedard, MD
Stefano A. Bini, MD
Leonard T. Buller, MD
Michael B. Cross, MD
Andy Engh Jr., MD
William L. Griffin, MD
William A. Jiranek, MD
Claudette M. Lajam, MD
Gwo-Chin Lee, MD
Adolph V. Lombardi Jr., MD
Charles L. Nelson, MD
Ryan M. Nunley, MD
Gregory G. Polkowski, MD, MSc
Kevin A. Sonn, MD
Bryan D. Springer, MD
Michael J. Taunton, MD
Resident Cement Lab
Cement Course Objectives: 
Understand cemented femoral stem indications and technique.
Gain comfort in executing femoral stem cementation through interaction with key opinion leaders and sawbones models.
Understand cement viscosities and viscosity implication in modern total joint fixation.
Understand modern cement technique and role of vacuum mixing systems.
Gain experience in applying bone cement via methods which mitigate risk of aseptic loosening.
In-Kind Sponsors
Thank you to our in-kind Course Sponsor: Heraeus Medical.
Faculty
Brian Hallstrom, MD, Hip Session Moderator
Ran Schwarzkopf, MD, MSc, Knee Session Moderator
Matthew J. Dietz, MD
Thorsten Seyler, MD, PhD
Matthew W. Squire, MD, MS