Resident Lab Course
Only residents that are accepted to the Resident Arthroplasty Course will be considered for the Lab.
About the Resident Lab Course
When: Thursday, November 11, 2021
The Resident Course and Lab are full. The AAHKS Resident Arthroplasty Course and AAHKS Resident Lab take place before the start of the AAHKS General Session at the Hilton Anatole Hotel in Dallas, Texas, USA.
Of the 140 residents accepted into the AAHKS Resident Arthroplasty Course, up to 128 will also be selected to participate in a hands-on cadaver lab taking place the day before the didactic course. In order to be considered for the AAHKS Resident Lab, you must:
Check the box on the course application to indicate interest in attending the lab.
Select your preferred time for the lab.
Applicants who fail to complete these steps will not be considered for the lab.
Course Chair: R. Michael Meneghini, MD
The AAHKS Resident Lab Course will take place on Thursday, November 11, 2021 in the Lab Course Tent located outside of the Rotunda at the Hilton Anatole Hotel. On your Resident Arthroplasty Course Application, there will be three options to choose from:
Lab Session 1: 7:00 a.m. to 9:45 a.m.
Lab Session 2: 10:15 a.m. to 1:00 p.m.
I do not want to be considered for the lab course.
If you do not select one of the lab sessions on your application, you will not be considered for the lab.
Residents will be assigned to a lab on a first come, first served basis.
The goal of this lab is to provide orthopaedic residents a hands-on surgical experience with cadavers and the ability to interact with world-class faculty in a small group setting. This course will focus on teaching the basics of arthroplasty such as: principles of anatomy, surgical techniques, bone preparation and implant positioning. Residents will be split into groups of four and assigned to one faculty member (4:1 resident to faculty ratio). Faculty will demonstrate and instruct residents in performing both primary hip and knee procedures using a full pelvis to toe-tip cadaver.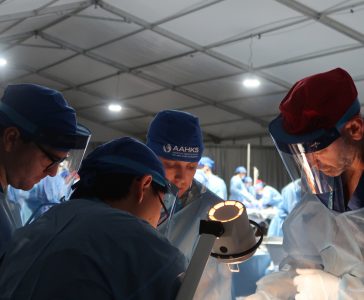 Why Should You Attend?
Networking! Faculty for the lab are comprised of world-renowned arthroplasty surgeons and AAHKS leadership. Residents come from all over the world. Use this as an opportunity to make connections and share ideas!
Surgical Time! Who doesn't love to work on their surgical skills?
New Techniques! You will be exposed to some of the top minds in the field of arthroplasty. Be sure to pick their brains for new ideas!
Free Lunch! Last but not least…there will be a luncheon after the second session of lab concludes. The lunch will feature a debrief of the lab as well as a short presentation by the faculty. And…more networking!