Industry Symposia
Join these symposia on a variety of topics included with the Annual Meeting.
Register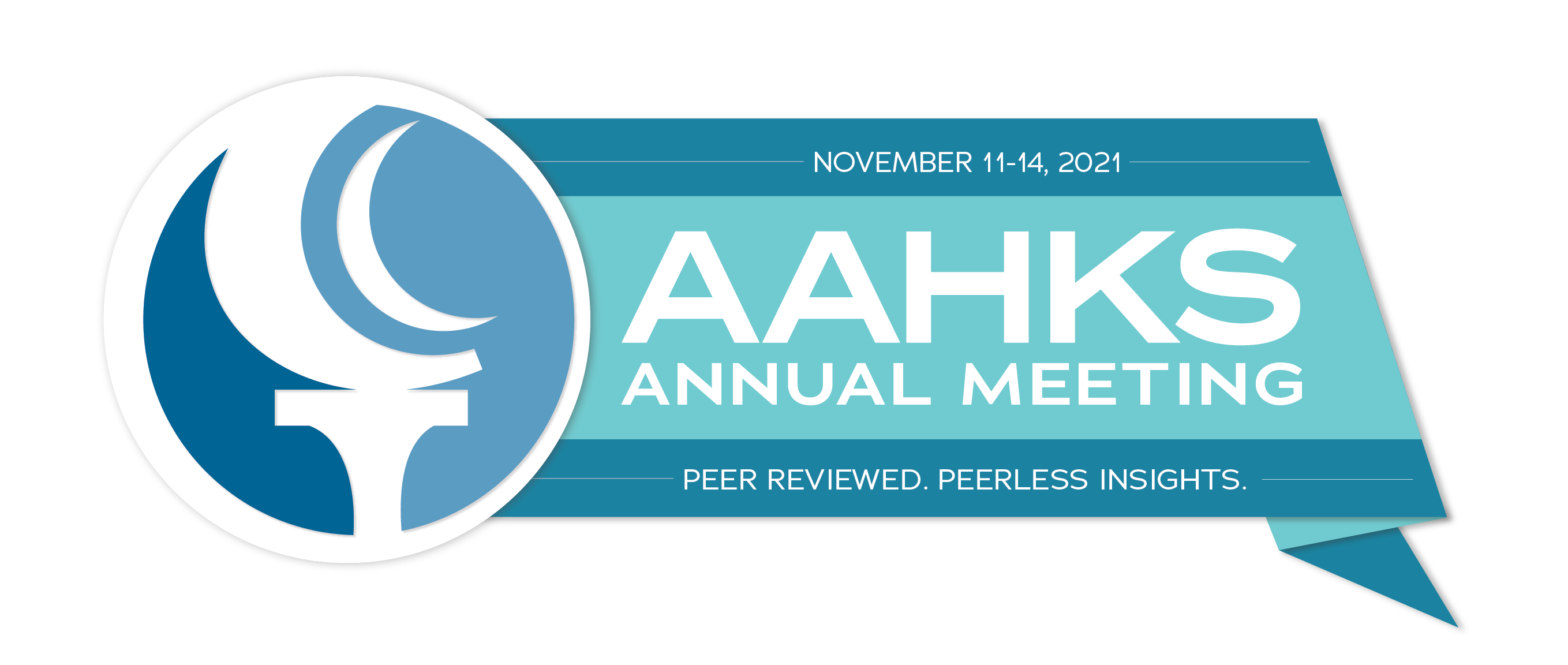 Industry symposia take place on Thursday, November 11 and Friday, November 12.  Details are subject to change.
Industry Symposia are separate from the official program planned by the AAHKS Annual Meeting Program Committee and do not offer AMA PRA Category 1 Credit™ unless noted by the sponsor.
Industry Symposia Times and Topics
Thursday
12:30-2:30pm: Utilizing Cooled Radiofrequency Ablation for Hip & Knee OA, Avascular Necrosis and Other Conditions
Avanos Medical
This seminar will detail the clinical evidence and real-world experience of two physicians who currently use cooled radiofrequency ablation within their practice. Clinical data will focus on the safety and efficacy related to conditions of the hip and knee, including osteoarthritis, avascular necrosis, and painful knee post-TKA. Each physician will then share how they have incorporated this technology into their practice and its impact on patient care.
Location: Coronado C
12:30-2:30pm: Your Work Isn't Over: Addressing the Incision
Smith & Nephew
The number of total joints performed in the US is expected to double between 2016 and 2026 to almost 2,000,000 joints per year. About 5% of all patients undergoing a surgical procedure will develop a surgical site infection (SSI) and SSIs are the most common reason for readmission to hospitals. This session will discuss how protocolization and the collaboration of multidisciplinary teams can address these challenges and improve outcomes.
Location: Coronado A
12:30-2:30pm: Enabling Approaches and Technology for Outpatient Total Joints
Medtronic
OPTJ is a ongoing conversation amongst orthopaedic surgeons. Surgeons are utilizing Tourniquet-free TKA with enabling technologies to implement new protocols to get patients up and ambulated quicker for rapid recovery.
Location: Coronado B
12:30-2:30pm: A Once-Daily Intravenous Non-Opioid Option for Moderate to Severe Pain in Adults
Baudax Bio
Inadequately controlled pain has important consequences, and many patients report moderate to severe pain following surgery. Multimodal analgesia targets multiple pain pathways and is recommended by national guidelines. These guidelines specifically recommend patients receive an around-the-clock regimen of COXIBs, NSAIDs, or acetaminophen. This program will feature a discussion about a once-daily intravenous (IV) NSAID. The discussion will include an overview of clinical trial data, including data specific to total knee arthroplasty, and the potential role of this agent in multimodal analgesia for moderate to severe postoperative pain.
Location: Coronado D
3:00-5:00pm: The Next Chapter in Robotics for Total Knee Arthroplasty
DePuy Synthes
Robotics in TKA have shown to be cumbersome, costly, and complicated solutions. This program will feature a discussion about technology in TKA, how it has evolved into robotics, and why the next chapter of robotics is here with the VELYS™ Robotic-Assisted Solution.
Faculty:
Dr. Bill Barrett
Dr. Aaron K. Salyapongse
Dr. John Redmond
Dr. Ali Olishirazi
Dr. Taylor Dennison
Dr. Jeremy Statton
Location: Governors
3:00-5:00pm: Reducing the Risk of Surgical Site Complications in Hospital and ASC settings:  The Latest Clinical Evidence and Complex Case Reviews
3M Surgical 
Join our esteemed panel, including the PI on the study, to review and discuss  new multi-center randomized control trial (RCT) data demonstrating significantly improved outcomes with ciNPT vs. silver-impregnated dressings
Understand the best practices in managing the complex patient in the ASC setting
Participate in a case-based discussion on the role of ciNPT on surrounding soft-tissue management in primary TKA
Faculty:

Javad Parvizi, MD (moderator)
Carlos Higuera-Rueda, MD
H. John Cooper, ME
R. Michael Meneghini, MD
Frank Buttacavoli, MD
Location: Coronado C
3:00-5:00pm: Practical Application of the Hip-Spine Relationship in Modern Total Hip Arthroplasty
Intellijoint
This symposium is intended to educate attendees on the current understanding of the Hip-Spine Relationship and its impact in modern Total Hip Arthroplasty. Leading researchers in this area will provide background knowledge and detailed clinical examples of the application and effects of the Hip-Spine relationship in THA planning and delivery.
Location: Coronado A
3:00-5:00pm: Making the Anterior Approach More Approachable
Microport 
With the addition of the cannula, Anterior PATH facilitates in-line reaming with better visibility that leads to concentric, predictable and more reproducible acetabular preparation. The cannula also supports an incision that is more superior and lateral when compared to a traditional DAA. The combined benefits of these changes have led to a reduction in femoral complications, a reduction in anterior thigh numbness, and reduced wound complications.
Location: Coronado D
4:00-6:00pm: Zimmer Biomet ROSA Experience
Zimmer Biomet
Location: Cortez
5:00-7:00pm: Respect the Joint Line: Addressing the 20%
MicroPort
With an increased emphasis on patient satisfaction, it is critical to focus on each individual patient's anatomy to drive optimal outcomes. Original medial-pivot knees have demonstrated significant improvements in satisfaction scores with its natural knee design and kinematics. "Kinematic Alignment" in conjunction with the medial-pivot knee provides the ability to match patient anatomy both through implant design and implant placement. This symposium simplifies what "kinematic alignment" really is and how and why it can make a difference for patients when combined with the patient-preferred medial-pivot knee.
Location: Coronado D
5:00pm – 7:00pm: Post Operative Wound Management and Infection Prevention Protocols – A Case Based Discussion 
ConvaTec 
Outpatient Setting
Comparison of Closure Techniques
New Data on Use of NPWT
Location

: Coronado B
November 11-12, 2021
VR Café – A Virtual Reality Experience
Zimmer Biomet
Chantilly Lobby
Registration Onsite
Friday
7:30-9:30am: Calipered Kinematic Alignment: Personalization As The New Standard in TKA
Medacta
This symposium will review the principles of calipered kinematic alignment: discussing what it is, what makes it special with a medial ball and socket designed implant, and what it means for the patient and the surgeon. We will dial in the talks using three key speakers that have experience in this field and understand the principles and how to apply them.
Location: Coronado B
7:30-9:30am: VELYSTM Hip Navigation: A New Era
DePuy Synthes 
DePuy Synthes is committed to providing our customers with the best tools so they can provide the best care to their patients. In this session, our esteemed faculty will discuss DePuy Synthes Hip Technologies with a focus on VELYS Hip Navigation 3.0, which enables intraoperative data driven decision making for patients positioned laterally, in addition to existing capabilities for the anterior approach technique.
Faculty:
Dr. Andrew Cooper (moderator)
Dr. Brent Carlson
Dr. Kim Tucker
Dr. Robert Mayle
Location: Coronado C
7:30-9:30am: Wound Management in Total Joint Arthroplasty: How to Prevent the Most Common Cause of Readmission
DePuy Synthes 
Location: Coronado D
Discuss wound management in total joint arthroplasty and how to prevent the most common cause of readmissions. Topics to include: background of wound complications, wound closure techniques, soft tissue handling, suture selection, management of persistant wound drainage, wound related causes of readmissions, financial impact, patient satisfaction, re-operation and outcomes.
Faculty:
Javad Parvizi, MD, FRCS
Bryan D. Springer, MD
Michael P. Bolognesi, MD
7:30-9:30am: The Future of Postoperative Pain Management in Orthopaedics
Heron Therapeutics
Pain management in the first 72 hours after surgery is critical. Inflammation peaks around 24 hours postoperatively and remains relatively high through these initial 72 hours. This period is considered the most painful of patient recovery, and when uncontrolled, this pain can impede patient rehabilitation. As the body's inflammatory process unfolds, the surgical site becomes increasingly acidic, limiting the efficacy of local anesthetics, regardless of administration technique. By attending this symposium, you will learn how possible innovations in local anesthetics could change the paradigm of postoperative pain management.
Location: Coronado A
7:30 – 8:30am : Introducing Persona IQ: The First and Only Smart Knee Implant – Registrants for the Zimmer Biomet Cadaveric Experience Attend This First
Zimmer Biomet
Location: Chantilly Ballroom East
8:30-10:30am: Zimmer Biomet Cadaveric Experience
Zimmer Biomet
Industry Symposium Lab Course
Location: Chantilly Ballroom East
10:00am – 12:00pm: Elevating Patient Outcomes with DePuy Synthes Knee Solutions
DePuy Synthes
The ATTUNE Knee System has achieved significantly better patient satisfaction than the class of other knees. Come and learn about how surgeons are now using the ATTUNE Knee Systems with patient specific techniques and the VELYS Robotic-Assisted Solution to improve patient outcomes.
Faculty:
David Dalury, MD (moderator)
Andrew Star, MD
J. Bohannon Mason, MD
Ryan Nunley, MD
Location: Coronado C
10:00am – 12:00pm:  Functional Positioning in THA and TKA: Does It Matter?
Stryker
Join this session to learn about the power of CT-based patient-specific planning with Mako SmartRobotics™. Surgeon faculty will lead live interactive case reviews for Mako Total Hip and Mako Total Knee. Learn how surgeons are using pelvic tilt planning and impingement modeling on at-risk patients with Mako Total Hip.
Location: Governors
10:00am – 12:00pm: Evolution of Conforming TKA: Pivoting in the Right Direction
DJO Global
The EMPOWR 3D Knee System has redefined conforming bearings, allowing patients to maintain natural knee motion through a dual-pivot design. Join this session to learn about the modern evolution to conforming medial pivot and dual pivot TKA designs, surgical technique pearls, clinical outcomes and what the future holds for outpatient TKAs in an ASC setting.
Faculty
James Browne, MD
Ray Kim, MD (moderator)
Michael Meneghini, MD
Scott Banks, PhD
Location: Coronado B
10:00 am – 12:00pm: Educational Symposium: Comprehensive Cementing for the Modern Practice
Heraeus
This symposium will cover some of the hottest topics regarding bone cement in modern arthroplasty including: Cemented vs. Cementless (TKA + THA), The Role of ALBC in TJR, Safety of HV in TJR, Importance of Closed Systems, and Cementing Technique in TJR.  Moderated by Dr. Haas, other expert faculty includes: Alberto V. Carli, MD, Matthew J. Dietz, MD, Beau J. Kildow, MD, Alexander P. Sah, MD, Thorsten M. Seyler, MD, PhD, and Matthew Squire, MD.
Location: Coronado A
10:00 am – 12:00pm: Optimizing the Total Episode of Care in the ASC
Zimmer Biomet
As your trusted partner, our ASC Solutions teams provide the tools to manage the pain points in your practice the way you want with solutions that drive profitability, minimize waste and support coordination and communication in your Ambulatory Surgery Center.
Location: Emerald Room
11:30am – 12:30 pm Introducing Persona IQ: The First and Only Smart Knee Implant Registrants for the Zimmer Biomet Cadaveric Experience Attend This First
Zimmer Biomet
Location: Chantilly Ballroom East
12:30 pm – 2:30pm: Zimmer Biomet Cadaveric Experience
Zimmer Biomet
Industry Symposium Lab Course
Location: Chantilly Ballroom East
12:00 pm – 2:00 pm: Total Joints in the ASC – A Recipe for Success
Avanos/Smith & Nephew
ASCs have unique challenges when integrating a total joint program into a center. These challenges are driving innovation in many areas, including patient throughput, robotics and data management. Dr. Aric Christal will discuss how he and his staff utilize new technologies in robotics and digital care management and the importance of building a care team to ensure efficiencies and excellent outcomes for a healthy business and satisfied patients. As TKA procedures continue to shift to the ASC setting, Dr. Ronald Singer will discuss his approach, from patient education through discharge, and how the ON-Q* Pain Management System has benefited his practice.
Location: Senators
November 11-12, 2021
VR Café – A Virtual Reality Experience
Zimmer Biomet
Chantilly Lobby – Registration Onsite